Home|News Room | Phoenix Plastic Surgeon on Common Reasons for Breast Implant Replacement
Phoenix Plastic Surgeon on Common Reasons for Breast Implant Replacement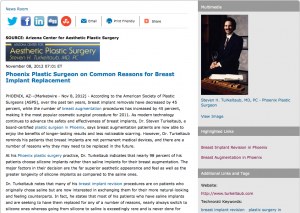 Phoenix, AZ — According to the American Society of Plastic Surgeons (ASPS), over the past ten years, breast implant removals have decreased by 45 percent, while the number of breast augmentation procedures has increased by 45 percent, making it the most popular cosmetic surgical procedure for 2011. As modern technology continues to advance the safety and effectiveness of breast implants, Dr. Steven Turkeltaub, a board-certified plastic surgeon in Phoenix, says breast augmentation patients are now able to enjoy the benefits of longer-lasting results and less noticeable scarring. However, Dr. Turkeltaub reminds his patients that breast implants are not permanent medical devices, and there are a number of reasons why they may need to be replaced in the future.
At his Phoenix plastic surgery practice, Dr. Turkeltaub indicates that nearly 98 percent of his patients choose silicone implants rather than saline implants for their breast augmentation. The major factors in their decision are the far superior aesthetic appearance and feel as well as the greater longevity of silicone implants as compared to the saline ones.
Dr. Turkeltaub notes that many of his breast implant revision procedures are on patients who originally chose saline but are now interested in exchanging them for their more natural-looking and feeling counterparts. In fact, he states that most of his patients who have saline implants and are seeking to have them replaced for any of a number of reasons, nearly always switch to silicone ones whereas going from silicone to saline is exceedingly rare and is never done for aesthetic reasons.
Another very common reason for breast implant revision surgery is that implants will ultimately wear down over time and either rupture (silicone) or deflate (saline), necessitating a revision surgery. However, Dr. Turkeltaub says that most patients who experience a rupture and need a replacement procedure would like to have another implant put back in.
A less frequent reason for replacing breast implants is that patients' bodies change over the years and the proportionate relationship that once existed is no longer the right fit. Consequently, Dr. Turkeltaub says patients often state that their breasts appear disproportionate or are either too large or not big enough for their bodies and they are looking to restore a proper balance to their figure.
Dr. Turkeltaub states that recovery from a revision breast augmentation typically is far better than that experienced following the original procedure, adding that there is usually only a fraction of the discomfort in comparison and most patients have a much easier time functioning after surgery. Generally, the same incisions can be employed so that no new scars are added unless there is a need to also perform a mastopexy, or breast lift, says the Arizona plastic surgeon.
As with any plastic surgery breast procedure, Dr. Turkeltaub says that obtaining desirable results from implant revision is strongly impacted by extensive training and experience as well as a great aesthetic sense. He encourages anyone considering this type of surgery to consult with a dedicated and experienced board-certified plastic surgeon in order to help maximize the probability of obtaining the desired results.
About Steven H. Turkeltaub, MD, PC
A graduate of the Six-Year Medical Program at Boston University and the Boston University School of Medicine, Dr. Steven Turkeltaub is board-certified by the American Board of Plastic Surgery. He is also a member of several professional organizations including the American Society of Plastic Surgeons, the Arizona Society of Plastic and Reconstructive Surgeons, and the Arizona Medical Association. Dr. Turkeltaub has dedicated numerous hours to his continued education through advanced courses and lectures, in addition to being published in a variety of plastic surgery journals and textbook chapters. He has been selected as one of the "Top Doctors" in the Phoenix Metropolitan area, and also one of "America's Top Plastic Surgeons."
With two locations at 10290 N. 92nd St. Suite 207 in Scottsdale, AZ 85258 and 18275 N. 59th Avenue Bldg. E Suite 126 in Glendale, AZ 85308, Dr. Turkeltaub's practice can be reached at (480) 451-3000. It can also be contacted online via the websites arizonabreast.com, turkeltaub.com, or facebook.com/drturkeltaub.